How to Optimize Real Estate Listings so that Your Clients Reach Out to you
Homebuyers don't just search for a real estate property in newspaper listings anymore- this is the century of online real estate websites. This means that as a real estate SEO Specialist, agent or agency, you need to have the best online presence that will make you stand out among millions of competitors so that the client is drawn to you. It doesn't matter whether you are an established company or just starting, you need to know how to optimize real estate listings in a way that can improve your online visibility. So, what is the best solution to the problem of visibility online? The simple answer is "SEO Services for Real Estate Industry".
Search Engine Optimization (SEO) refers to techniques that assist your website in increasing its visibility online and subsequently increasing the web page traffic in the long run. SEO, moreover, does not depend on cold calls or paid advertisements to obtain leads but focuses on making your website rank on the first page of search engines. A real estate SEO specialist can, therefore, help you receive unpaid or organic leads online.
SEO services for real estate industry websites, or any other website for that matter, can seem complicated especially if you have no previous experience with it. We recommend that you consult a great real estate SEO specialist to create the best SEO packages that can increase your website's traffic. But before all that, here are our tried and tested SEO services for the real estate industry that can boost your rankings as well as your returns!
What are SEO Services for Real Estate Industry?
For you to understand which of the SEO services for the real estate industry will be the best fit for your website, you need to have a decent understanding of the meaning of the term search engine optimization. It is a set of strategies that enables search engines to rank the content of a webpage for certain keywords. The three basic elements of all real estate SEO packages are search engines, searchers, and the information provider (the person who posts the content), which in this case, is probably you.
So, how exactly can real estate SEO expert services for the real estate industry enable your website to respond to relevant search queries in real-time? It is a surprisingly simple explanation. Search engines use three tools- crawling, indexing, and ranking- to determine the relevance of your website according to a search query. To explain further,
1. Crawling
Search engines make use of bots known as crawlers or spiders to scour websites in search of new, relevant content.
2. Indexing
The information acquired during the crawling process is stored. A page is available for users to read-only after it is indexed.
3. Ranking
The search engines rank this indexed content based on its relevance. That is, the more relevant the answer a website provides is to a user's query, the higher it ranks. Unlike crawling and indexing, real estate website rankings are more dependent on various on-page and off-page SEO services for the real estate industry.
So how exactly can you use search engine optimization to stand out from your competitors who are trying to do the same? The best way to determine the right SEO packages to be used for your website is to consult an SEO agency for real estate, or more specifically in this case, a real estate SEO specialist.
Why do you Need a Real Estate SEO expert?
SEO is one of the most important aspects of any type of digital marketing. With some efforts from your side like the incorporation of relevant content and commonly used keywords in your site, a real estate SEO company can help your page appear at the top of various search engine results pages or SERPs.
It is easy to make minor mistakes when you try to optimize your website by yourself, and these minor mistakes might end up causing you to lose out on valuable traffic. Therefore, it is always better to consult an experienced real estate SEO specialist for your requirements.
A real estate SEO specialist can help your website to: 
1. Increase Domain Authority
DA or Domain Authority is your website's ranking among counterparts from the same niche. The higher your ranking, the more is your DA.
High-quality, SEO-rich content does play a part in maintaining your DA, but an SEO specialist can help you with the elimination of toxic or broken links, faster-loading speed, frequent on-page SEO audits, and sharing content to the right platform at the right frequency. The real estate SEO expert who tackles any obstacles could handle any kind of situation with ease.
A real estate SEO specialist will be able to identify and incorporate local and niche-based phrases or keywords, create content specific to homebuyer's queries as well as integrate SEO with social media. All this along with an increased focus on referral links can push your website into more circles of homebuyers- increasing brand awareness and generating more leads.
3. Boost ROIs
When it comes to Returns on Investment or ROIs, lead conversions and CTRs (Click-Through-Rates) determine the profitability of the venture. A real estate SEO specialist will help you to optimize your content according to the best SEO services for real estate industry websites which will help the website pop up for genuine property-related queries. This kind of visibility can increase leads or potential buyers and therefore, increase ROIs.
Without further ado, here is how to optimize real estate listings on your website with the help of various SEO services for the real estate industry.
How to Optimize Real Estate Listings with SEO?
Now that you have an idea of what the SEO services for real estate industry websites are and how much importance they hold for a real estate agent or company, here are some of the best SEO techniques that can increase traffic and boost conversion rates.
1. An SEO Audit
Before developing a strategy that lines up with the best SEO services for the real estate industry, it is necessary to understand where your site currently stands. An audit might be a time-consuming process, but as the primary step in any real estate SEO specialist's checklist, it is unavoidable. A thorough audit can help find the existing mistakes and gaps in your website- whether technical or not. Taking steps to fix these mistakes is necessary for creating an efficient SEO package.
Keyword Research
Of course, you already know how important keywords are to ensure a high rank for your website. When it comes to SEO   services for the real estate industry, there has to be more focus on local keywords than there is on other niches. To attract organic traffic and genuine leads, it is always better to use keywords with local search intent. For example, "2BHK house for rent in Mumbai" will yield more genuine leads than "rent house available".
As a real estate SEO service expert, here is a list of the best real estate SEO keywords for 2022 to help you get an idea of how it should look.
Best real estate SEO services include arranging keywords for 2022- houses for sale, homes for sale, for sale by owner, house for sale, FSBO, homes for sale by owner, for sale by owner, real estate companies, hunting real estate, real estate lookup.
3. Optimize content with SEO
The best answer for how to optimize real estate listings is simple- keep your content clear, correct, and concise while making sure to include keywords with a natural flow. While creating content for your website, always ensure that they rightly answer the user's queries.
4. Use High-Quality Images
As the best real estate SEO expert in Mumbai, we suggest that in a niche like real estate, property images are an essential requirement for potential customers. Use authentic 3D images, high-quality videos, and other virtual tools to attract more interested customers. However, since google bots cannot yet process multimedia content, SEO services for the real estate industry are successful when images are properly SEO optimized.
5. Avoid Black Hat SEO Practices
As the best SEO company in Mumbai, we think that honestly, this shouldn't even be a question. But we know how easy they can seem to newly launched real estate websites. But these practices will ensure that your DA plummets, penalties are received, and finally that your site is banned. Make sure to stay away from unethical practices such as plagiarism, cloaking, and even keyword stuffing.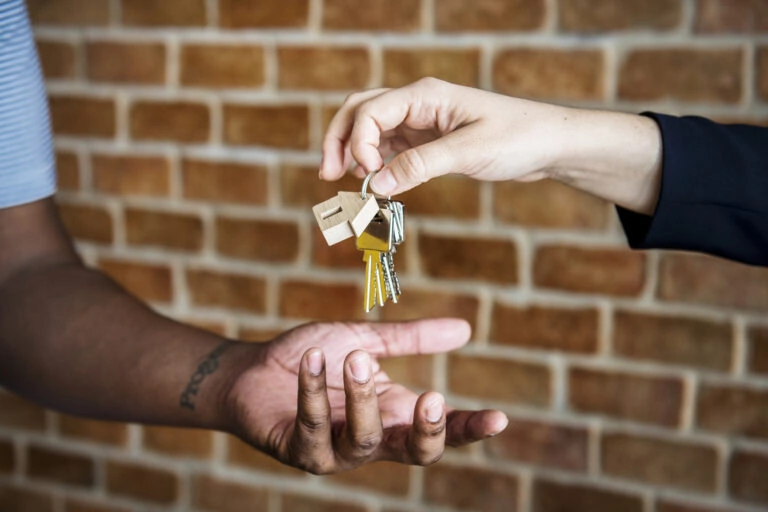 How do Real Estate Websites with CRM Help with SEO?
CRM or Customer Relationship Management as the name suggests, helps businesses understand their customers and connect to them better. A CRM software stores information about a customer such as their names, contact information, previous purchases, or social activities to help businesses understand them better. For a website that deals with real estate, CRM software are unavoidable aspects that help in understanding the clients. This information is critical in helping sales representatives perform their jobs exceptionally.
But how exactly will real estate websites with CRM simplify the various aspects of SEO services for the real estate industry? These are 2 different things, so what exactly does SEO have to do with customer relationship management software?
Here are three ways in which real estate websites with CRM have a better chance of creating a more effective SEO strategy.
1. Recording Keywords
CRM software can record keywords from specific queries customers ask on your website. When you equip your real estate websites with CRM, you can record your conversations with a customer. Keywords with high volumes found in these conversations can be integrated into the content of your site. Moreover, as these keywords are directly sourced from users specific to your website, they will be more effective in the long run.
2. Blogger Outreach
SEO services for real estate industry websites continuously highlight the importance of the credibility of your site and its content. Now, the best way to increase both these together is via guest blogging or having your content on another website. However, you have to ensure that these guests or websites are genuine and authentic enough to make an effective endorsement. CRM can help in finding great contacts who are interested in collaboration.
3. Social Media
If you have a real estate website with CRM, you can keep track of your communication with your clients as well as their various social media activities. This allows you to reach out to them via their preferred social media channel. It also helps you find which channel your clients use the most. That way you can focus on optimizing it.
Conclusion
As a real estate SEO service company it doesn't sound easy enough to implement a strategy by customers themselves. And with a little practice, it could be true. But we recommend you start your SEO voyage with the best real estate SEO specialists in town. We have a great SEO agency operating in Mumbai, Dubai, and Bangalore. Contact us now to know more about SEO services for the real estate industry. That can boost you to the top of SERPs.