The industry of digital marketing has been thriving recently. Especially so, in India. The recent pandemic has made businesses do a complete 360° on their marketing approach. The rise of e-commerce stores, social media marketplaces and more have also led to the rise of another sector. Digital marketing agencies.
Digital marketing agencies in Navi Mumbai, especially, have seen a huge rise. This is not only due to the fact that demand has increased. But also, the digital marketing agencies in Navi Mumbai are the best available in the market today. With almost 90% of all clients being international, Wireframes Digital tops all other service providers. Services like Search engine optimization (SEO) and Pay Per Click advertising are services provided by most digital marketing agencies in Navi Mumbai. But WD also provides web design as well as Social Media Marketing (SMM) services. Most importantly, they employ the best young minds in the industry to give clients the most up to date solutions.
But what is special about the digital marketing agencies in Navi Mumbai? Why are they considered the best in the field? Read on to find out more about Navi Mumbai and the growth of digital marketing agencies in Navi Mumbai.

Why Digital Marketing?
Digital marketing is simple. It is basically understanding customer behavior on the web. Products are then endorsed through various digital media. This includes search engines, social media, email and more. You can create a good digital marketing strategy by combining SEO, SMM, PPC, email and mobile marketing. However, we do recommend consulting an expert for your digital marketing strategy. It can be quite complicated!
Digital marketing companies saw huge growth during the COVID19 pandemic. Many businesses were forced to rethink their marketing plans. Like saviors to these drowning practices, digital marketing companies began their work. Many companies at the brink of loss were revived through creative campaigns, great SEO and a great online presence.
Along with the world, India saw a huge rise in digital marketing ventures. This wasn't really a surprise. In January 2022, there were 658 million internet users in India. Stats show that internet users in India increased by 34 million or 5.4% just between 2021 and 2022. In addition to that, India is currently the second globally in terms of internet usage, right after China. This must give you an idea of the internet's potential in India. So, use this potential to benefit your business. Many entrepreneurs have already gotten a head start. With the help of a great digital marketing agency, you too can do the same!
Although we believe in the power of digital marketing, we also know how crucial an informed decision is. So here are a few reasons from one of the best digital marketing agencies in Navi Mumbai to consider going virtual.
1. Cost Efficiency
Digital marketing is the most cost-efficient marketing method you can opt for. Just compare it to conventional channels like print media or TV. In fact, you will only have to spend a fraction of what you have spent before. And more importantly, digital marketing offers you better and faster results than any other form of promotion.
2. Easy Result Tracking
Digital marketing relies on the internet. The web is a public forum where the public can give their opinions. And luckily for us, this happens almost instantly. That means, the lower response time not only gives you instant feedback, but also a chance to correct any mistake quickly. Moreover, there are many tools available to help you track your performance online. You can get detailed data on your campaigns, weigh their outcomes and make decisions much quicker.
3. Choose Your Target
Yes, digital marketing gives you an opportunity to target a specific audience. Other marketing channels force you to promote to a huge group of audiences that might or might not include your target demographic. This means a lot of effort and finances are wasted on advertising to an irrelevant audience. But with us, you have the option of targeting people who are likely to buy your products. This not only increases your chances of conversion but also the prospect of returning customers.
4. Interact Directly with Your Customers
As mentioned earlier, digital marketing channels are two-way platforms. That is, you advertise something and you get direct feedback from the person you advertised it to. This is a huge change from the conventional marketing channels. You might have found the delayed response time and static promotions a tad annoying. We used to too! But now, you have the chance to directly communicate with your customer. And more importantly, you get quick feedback. You would be able to use this perk to influence and convert viewers into actual clients.
5. Keep Up with the Crowd
At the pace at which social media and the internet is overtaking the lives of people, you need to stay on trend to sell to them. Search engines, social media, blogs and other online portals are showing huge growth potential. On the other hand, print media and television are facing a steady decline in popularity. This doesn't mean those channels are useless. It just means that if you want to sell to the internet population you need to stay current. Foot traffic in brick and mortar stores are also going down. The rise of e-commerce sites and social media marketplaces have ensured that. So, if you don't even have an online presence in this day and age– you will be forgotten.
So, what do you think about the potential of digital marketing? Still not convinced? Give us a call to find out about more benefits it can offer you. That's right, there are many more perks to digital marketing. Especially with a great strategy from an expert in the field. And trust us when we say that the best ones are the digital marketing agencies in Navi Mumbai. Why? Well, as the best of the best digital marketing agencies in Navi Mumbai, here are the points Wireframes Digital puts forward.
Navi Mumbai– India's Digital Marketing Hub
Mumbai has been the commercial capital of India for decades. Most consumer goods companies, Bollywood film companies and technoparks have set up their head offices here. It is only natural that this led to advertising agencies mushrooming all across the city. In fact, did you know that The Economic Times even referred to Mumbai as the Mecca of Indian Advertising?
The Mecca of Indian Advertising surely did not hold back when digital marketing was on the rise. With the lockdowns making online shopping a necessity, Mumbai embraced it. This meant that all the huge companies set up in Mumbai were looking for help to shift to the internet. As one of the most tech-savvy cities in India, Navi Mumbai became a hub of digital marketers. Digital marketing agencies in Navi Mumbai have been victorious in their goals so far.
In addition to this, Mumbai houses a huge number of start-ups and small businesses. Are you a small business owner who had to abandon carefully prepared marketing strategies during the pandemic? You are not alone! Many small businesses and all the people depending on them struggled with the new marketing scene. But get this– digital marketing is the best way to help small businesses compete with the giants in the market. Firstly, you can start on a small budget. In addition to that, digital platforms could connect you to potential customers without geographical boundaries. Most importantly, however, digital marketing can give you the space you need to get your brand noticed. The internet is a public forum. A platform where you can make your voice heard along with the toughest competitors.
There is one other reason for the success of digital marketing agencies in Navi Mumbai. The cosmopolitan status of Mumbai! Mumbai is crowded with people from around the world. The connections of the city span around the globe. The success of digital marketing agencies is popular everywhere. Many international firms outsource their digital marketing work to the digital marketing Agencies in Navi Mumbai. With a majority of our clients being from Europe, Asia and UAE, Wireframes Digital is the perfect example of this. When even the world has come to know the efficacy of digital marketing agencies in Navi Mumbai, why would you hesitate?
Have you decided to try out digital marketing yet? The only thing you now have to worry about is choosing the right digital partner for you. With so many digital marketing agencies in Navi Mumbai, that can be a daunting task. How can you choose the right one from the hundreds of digital marketing agencies in Navi Mumbai? Why is that important? We have explained it below.
How to Choose the Right Digital Marketing Partner?
Digital marketing is now a huge concern for businesses. More than 70% of all small businesses have a website now. This is a huge rise from the 50% of 2019. Most of the industry leaders had strategically expanded their online presence before a crisis struck. A huge percentage of their marketing expenses are invested in digital marketing. Now, we are not saying that you should invest that much for a successful digital marketing campaign, In fact, by choosing the right digital marketing agency, you can create a tailored strategy that will boost your brand online.
Other than the obvious financial benefits, why is choosing the right digital partner critical? A digital marketing agency works as an arm of your brand. They are a part of your business till the set goals are achieved. This means that they have to be a perfect fit for you. Like the Cinderella you are, you have to find your perfect glass slipper! From the hundreds of digital marketing agencies in Navi Mumbai, you need to ensure you find one that gets your vision. The objective of a digital marketing agency should not be bulldozing your vision. The right partner will support your ideas and apply the best digital marketing practices to them. In other words, if you want to tell the world your story, you need to find your perfect fit from the digital marketing agencies in Navi Mumbai.
You might now be wondering how to do this. Although the process could be a little work, it's worth it! We know you want to share the true spirit of your organization online. Here are a few things to keep in mind when you're scouring the digital marketing agencies in Navi Mumbai. Consider these questions carefully when you choose.
1. What are you looking for?
The first step of hiring a digital marketing agency is knowing your needs. As yourself what you are looking for. Do you need someone to boost your social media presence? Or an agency that can work with your in-house marketing department? Do you need to design a website? All these are different aspects of digital marketing. There are digital marketing agencies in Navi Mumbai that specialize in single aspects such as SEO or web design. That is why knowing the areas of help you need is critical to the right choice.
2. What is the budget you can allot?
You might be a small business trying to make it online. Or you could be an established corporation looking for a new digital marketing agency. What we're saying is that the budget differs. But whether your budget is big or small, you will have plenty of digital marketing agencies in Navi Mumbai to choose from.
You should also know that a big budget does not necessarily mean success. A digital marketing agency quoting high prices does not make it the best in the market. Agencies like Wireframes Digital can provide the best services at the most affordable prices of all digital marketing agencies in Navi Mumbai.
3. Does the agency have the expertise they claim?
A digital marketing agency that assures you it can help you grow online should be doing well themselves. Right? And there is one easy way to check their online presence– just Google it!
By Googling the agency, we don't mean just typing out the company name. Type out phrases like 'digital marketing agencies in Navi Mumbai' or 'best SEO agency in Mumbai'. If the agency is as good as they claim, you'll most likely find them within the first few SERPs. After all, the first results page won't fit all the digital marketing agencies in Navi Mumbai.
4. Is the agency legitimate?
The huge number of digital marketing agencies in Navi Mumbai is usually a good thing. Unfortunately, the competition has caused the rise of many agencies with no idea about marketing. Using old methods, not staying up to date, employing people who are not qualified– these are a few things that can affect the credibility of a digital marketing agency.
A great way to ascertain the legitimacy of an agency is by talking to their clients. If the clients are not your direct competitors and are willing to talk, then why not? You can directly contact them and ask them about their experience with an agency. Another method is going over client reviews online. You can also talk to the agency for more details. Ask them about how they deal with unexpected issues or an unhelpful client.
5. Do their prices look too good?
 Did an agency quote you such a low price that you couldn't believe it? Then you better not! In fact, Neil Patel, a famous face in digital marketing says, "A great SEO will never charge low prices. If you're hunting for a discount, chances are you'll end up with an SEO who cuts corners and hurts your site in the long run."
Again, we're not telling you to spend more than you can handle on digital marketing. But don't settle for a company just because they are offering you very low prices. Establish your goals and then look for a company that can help you best. Only if you are satisfied with all their aspects should you decide to invest in them.
6. How does their social media look?
Social media is a huge part of all our lives today. It is not just people who use social media today. Many companies also have handles on platforms like Instagram, LinkedIn, Twitter and Facebook. This not only helps them interact with clients but also helps them showcase their work.
By browsing through their social media, you can know many things about an agency. The employees who work there, their general tone and even the events they conduct. A great social media also means they are adept at social media management– another plus point!
7. How transparent are they?
If you are planning to invest in a particular agency, you have the right to know more details about them. If you don't, you might be making the wrong choice.
Go carefully through the agency's website. You would want to check for the following details.
Agency address
Client lists
Client testimonials
Services provided
Customer service details
Make sure the website checks all the items in this list of important details. These are the most basic details that you need to place your trust in an agency.  Another thing you can do is check their activity status on blogs or social media. If you find that they haven't been active there, it is likely that their productivity has gone down.
If you have decided to choose an agency, talk to them about communication. What channels to use? How often to hold meetings? How will results be documented? All these are important decisions you need to make together before proceeding. Ensure that the agency will be fully transparent about what they are doing.
8. Will they work as a good long-term partner?
After you have found a digital marketing agency that checks every point above, you need to ask yourself one last question. Will this agency work as a great partner for you long-term?
Digital marketing is not a 'do it once and get it over with' solution. It is a continuing process. Just as the search engines change their algorithms or people start using different search terms, you need to adapt. This means that to boost your business, the marketing agency will have to stay updated and keep on improving. There are a number of things to be taken care of when it comes to digital marketing. From your site design, content and CTAs to blogs, campaigns and social media should be tended to.
In simple words, digital marketing is a long process. That is why, out of all the digital marketing agencies in Navi Mumbai, you need to find one you can truly bond with. It would be best to form a long-term relationship with your digital marketing agency. So, make sure you get along with them!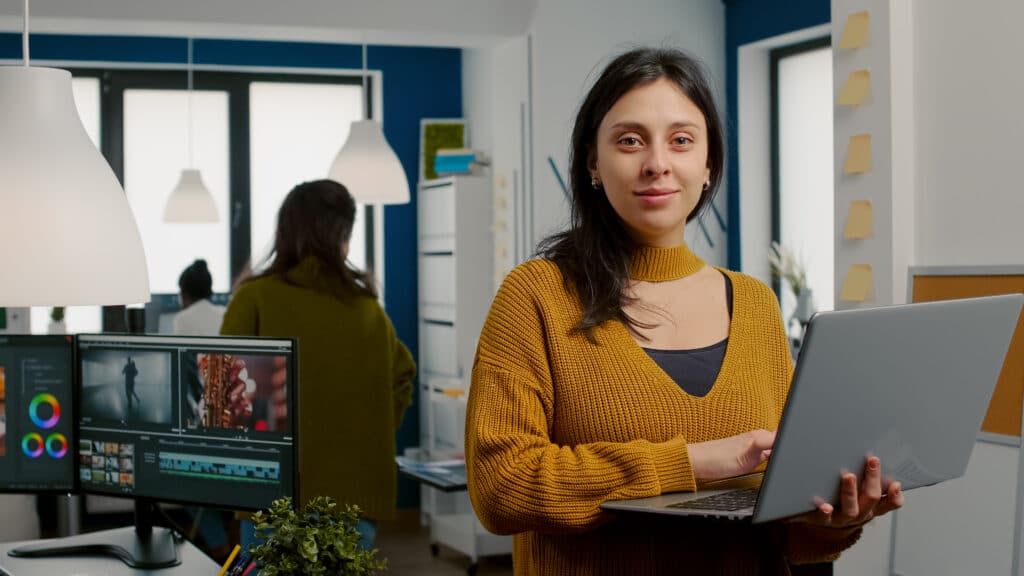 Why Consider Wireframes Digital?
You need to find a good partner from all the digital marketing agencies in Navi Mumbai. If so, why not choose the best– Wireframes Digital?
As one of the most reputed digital marketing agencies in Mumbai, we can guarantee you a consistent increase in your leads and sales. No matter your industry, we can provide you with expert consultants who specialize in each aspect of your digital needs. Our strong team is armed with diverse perspectives, world-class experiences and an abundance of tools to give you precisely curated strategies. Be it SEO, pay-per-click, social media marketing or web designing. Your project might be big or small, but we make it a priority to deliver expert support. We work closely with you to understand your business requirements before formulating the perfect digital strategy for you.
We attract the right audience from Google and social media, bringing them into your online experience to aid your revenue growth. Transparency is of great importance to us at Wireframes Digital. We believe that you deserve to know even the smallest details of anything that affects your business. When you work with us, you are in the loop every second of it. You will know exactly what we offer for the money you spend. The services we offer for you are impeccable, helping us get you more results than all other digital marketing agencies in Navi Mumbai.
Want to make your website a revenue-generating asset to your company? Give us a call today to know more about the scope of digital marketing.
The right digital marketing strategies can drive traffic to your store. Today, consumers consult the internet to know exactly what they want. They also know where to find it this way. That is why no retailer can thrive without the right digital marketing strategy or tools. To clarify, your overall performance will be affected by your performance online.
Digital marketing in retail industry can help you in many ways as a retailer. Some of its benefits are,
1. Competitive Advantage
The right use of digital marketing can help you face much bigger competition.
Even with limited resources compared to the competition, a great strategy can help you stand up to them. Even if you have a smaller budget, you can make use of digital marketing in retail industry. It helps to promote your brand on a global and national level to get more buyers.
2. Improved Brand Metrics
Brand metrics include the image, awareness and more your brand enjoys among people.
It can help you differ from the competition. The right approach online can help you influence the audience's idea of your brand.
3. Better Customer Experience
Giving your customers a great experience is what makes them come back. A great digital marketing strategy takes care of both the pre and post-purchase experiences of a buyer.
Apt use of digital marketing in retail sector is important. It helps brands give their customers a pleasant shopping experience.
4.

More Opportunities
With digital marketing, retailers have more opportunities than ever before. You can now get leads that are not bound by proximity. This can help reduce marketing costs as well.
Further, digital marketing has also made giving support services much easier. Use the best strategy to take full advantage of many more of these benefits.
5. More Conversions
It is much easier to reach your prospects in the right way at the right time digitally.
Direct interaction and engagement with your clientele also improve chances of purchase. In other words, digital marketing helps to increase leads, conversions and retentions!